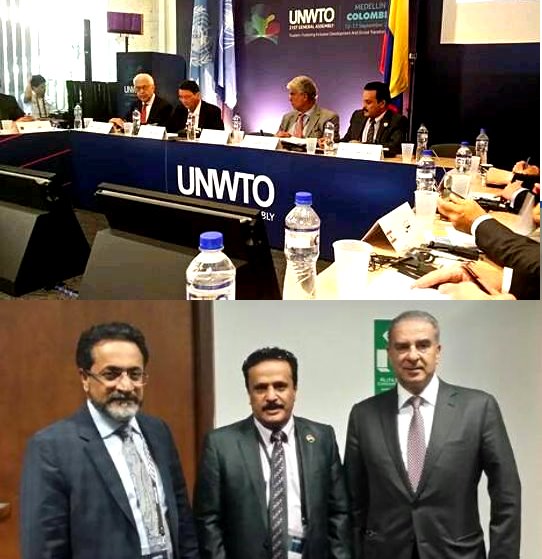 09/15/2015
During the UNWTO meeting in Colombia, Yemen has been chosen as the Vice-Chairman of the Middle East Committee ..
During the UNWTO meeting in Colombia, Yemen has been chosen as the Vice-Chairman of the
Middle East Committee ..
The meetings of the twenty-first session of the Executive Council of UNWTO General Assembly
and its regional Committees are continuing in Medellin – Colombia through the period from
12th – 17th September 2015 with the participation of 158 countries around the world including
the Republic of Yemen.
During the events a meeting for the Regional Committee for the Middle East was headed by
Yemen at presence of His Excellency Dr. Taleb Rifai, Secretary General of the UNWTO, where
the committee has chosen Yemen to the post of Vice-Chairman of the committee as an active
member that represents the Middle East Tourism and sustainability committee at UNWTO for
a period of four years 2016-2019, and the formal nomination is expected to take place at the
coming meeting of the General Assembly of UNWTO, where a new Council of Administration
of the committee will be formed.
Tourism and sustainability committee consists of nine chosen members based on the
recommendations of the regional committee, and then a Chairman and Vice-Chairman will be
elected at the first meeting of the new formation in the period between the twenty-first and
twenty-third session of the General Assembly of the Organization, where the regional
committees of America, Europe and Africa will be represented by two members at Tourism
and sustainability Committee, while regional committees for the Middle East, East Asia, the
Pacific Ocean and South Asia are represented by one member. It is worthy to be mentioned
that Tourism and Sustainability committee is one of the key working committees of the
UNWTO, which including also the committees of Program and Budget, Tourism Statistics and
Account, Competitiveness and Tourism, membership applications and the committee to
determine the host countries of the official UNWTO events of World Tourism Day, which is
being held in September 27th of each year and will be celebrated this year in Burkina Faso,
then it will be moved at the next year to one of the South Asian countries according to the
applicable geographical distribution system and then in 2017 to one of the countries in the
Middle East. Also, the nominated states to the membership of the working committees of the
Organization will be approved together with amendments to the statutes of the organization
and to the 1947 Convention on the Privileges and Immunities of the Specialized Agencies,
while the subject of the celebration of World Tourism Day this year will be discussed too,
which motto for this year is the "Billion tourists .. Billion opportunities in 2015" .
The meeting will be concluded with the announcement of place and date where the meetings
of the twenty-second session of the General Assembly of the UNWTO will be held.