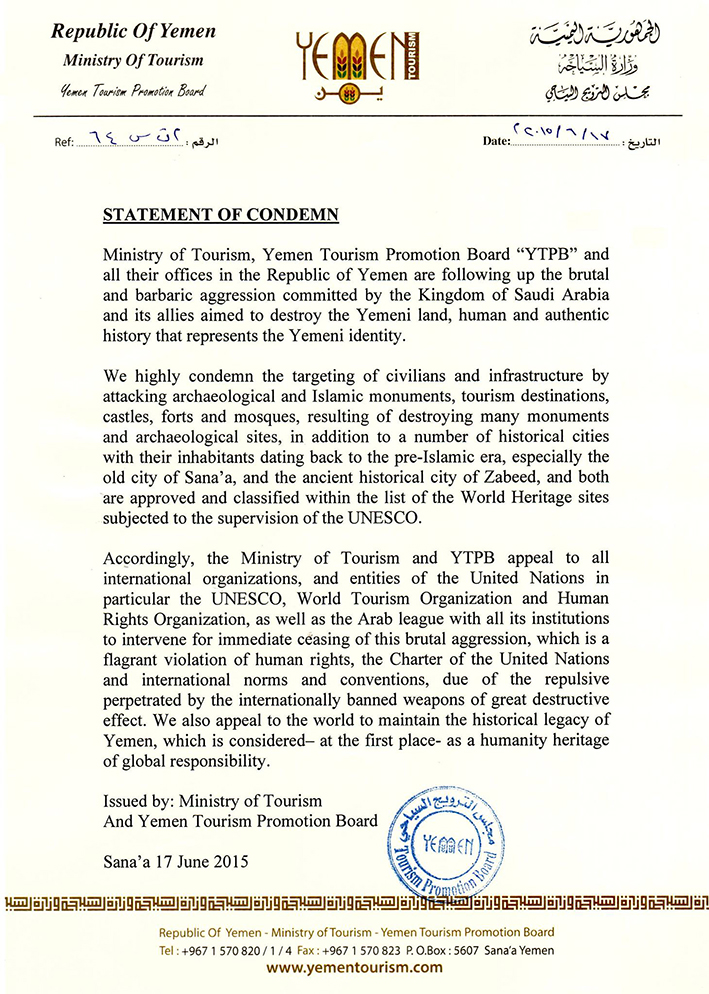 06/13/2015
STATEMENT OF CONDEMN ABOUT AIMING THE HERITAGE OF YEMEN
STATEMENT OF CONDEMN

Ministry of Tourism, Yemen Tourism Promotion Board "YTPB" and all their offices in the Republic of Yemen are following up the brutal and barbaric aggression committed by the Kingdom of Saudi Arabia and its allies aimed to destroy the Yemeni land, human and authentic history that represents the Yemeni identity.

We highly condemn the targeting of civilians and infrastructure by attacking archaeological and Islamic monuments, tourism destinations, castles, forts and mosques, resulting of destroying many monuments and archaeological sites, in addition to a number of historical cities with their inhabitants dating back to the pre-Islamic era, especially the old city of Sana'a, and the ancient historical city of Zabeed, and both are approved and classified within the list of the World Heritage sites subjected to the supervision of the UNESCO.

Accordingly, the Ministry of Tourism and YTPB appeal to all international organizations, and entities of the United Nations in particular the UNESCO, World Tourism Organization and Human Rights Organization, as well as the Arab league with all its institutions to intervene for immediate ceasing of this brutal aggression, which is a flagrant violation of human rights, the Charter of the United Nations and international norms and conventions, due of the repulsive perpetrated by the internationally banned weapons of great destructive effect. We also appeal to the world to maintain the historical legacy of Yemen, which is considered– at the first place- as a humanity heritage of global responsibility.
Issued by: Ministry of Tourism
And Yemen Tourism Promotion Board

Sana'a 17 June 2015